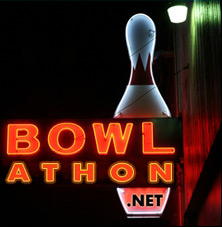 | | |
| --- | --- |
| What: | STRIKE OUT AGAINST CANCER! |
|   | WomenCARE's 21st Annual Bowling Benefit |
| When: | Saturday, October 28, 2017 |
|   | Three 1½ hour sessions between 1:00 -5:15 PM |
| Where: | Santa Cruz Boardwalk Bowl |

On Saturday October 28th, 2017 we will be hosting our 21st annual Strike Out Against Cancer bowling benefit at the Boardwalk Bowl. Let's make this our most successful year yet! With your participation, we can do it!
Help us get an early start by REGISTERING NOW!
Register as a team captain (grab up to four of your favorite people to bowl with you), join an existing team, sign up as a single bowler or create a "Virtual Team!" (Need not be present to participate!)
Online: StrikeOutAgainstCancer.org
Email: bowling@womencaresantacruz.org
Call: 831-457-2273
START NOW! Begin collecting pledges early.
Aim for a minimum of $500 per team.
HAVE FUN! Create a team name, add costumes if you'd like- themes make it all the more fun!
WIN PRIZES! In addition to medals and trophies to be won, we will be handing out raffle prizes all day!
We look forward to a fun day of bowling and raising money and awareness. We appreciate your support and commitment to WomenCARE. See you at the lanes!
Thank you to our 2015 Sponsors:
Event Sponsor
Donald Richards
Boardwalk Bowl
Powerhouse Sponsors
Palo Alto Medical Foundation Santa Cruz
Complete Mailing Service
George Ow Family Properties
Robert Taren, Attorney at Law
Lane Leader Sponsors
Subaru of Santa Cruz 
Toyota of Santa Cruz
Santa Cruz Community Credit Union
Weldon Works
Ercilia Medeiros
King Pin Sponsors
Scotts Valley Market
Craft Gallery
Scarborough Lumber
Thrive Natural Medicine
Brinks Awards and Signs
Alley Cat Sponsors
Laurencin Personal Physicians
Cisco International
Five Branches University
Full Janitorial Service
The Next Step, A Woman's Boutique
Hakim Acupuncture & Herbal Clinic
Horsnyder Pharmacy and Medical
Westside Pharmacy
Applied Power Technologies
Thank you to our generous local businesses and friends:
Alfaro Family
Vineyards

Gayle's Bakery &
Rosticceria

Rare View

AnnieGlass

Judy Atwell

Roaring Camp Railroad

Arrow Surf & Sport

Kayak Connection

Santa Cruz Beach
Boardwalk

Assembly

Kayla Garnet Rose

Santa Cruz Bodywork

Beauregard
Vineyards

Lynn Murray

Seabreeze Café

Boardwalk Bowl

Minorsan Self-Defense
Training

Serene Skin & Body

Café Cruz

Mission Hill Creamery

Shadowbrook/
Crow's Nest

Café Sparrow

Modern Life

Shelley's Biscotti

Chardonnay

Monterey Peninsula
Foundation

Soquel Dental Office

Craft Gallery

Nickelodeon Theatres

Staff of Life

David P. Salazar

North Coast Coffee
Roasting Company

Tea House Spa

Dharma's

Nourish

The Buttery

Discretion Brewing

O'Neill Yacht Charters

The Crepe Place
Earth, Sea & Sky
Vacations

Pacific Cookie Company

Thermal Body Scan Santa Cruz

(YAMA) Elite Martial Arts Academy

Pacific Edge

Way of Life

Emerald Iguana Salon

Palace Art & Office
Supply

Well Within

Gabriella Café

Penny Ice Creamery

Yoga Center

The Garden
Company

Pleasure Point Apothecary